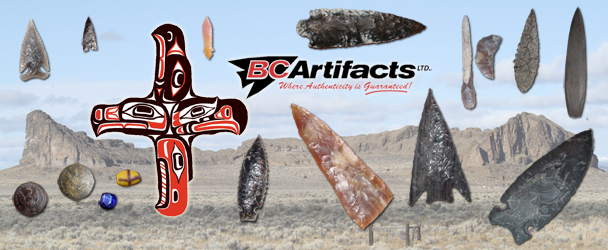 Mug 2020COLLECTABLE_slider
Educational resources_slider
Welcome to BC Artifacts Ltd.
Welcome to BC Artifacts Ltd. I specialize in "AUTHENTIC" Western North American artifacts and collectables. I only sell artifacts from legally obtained collections. You can shop with confidence as  any artifacts I have sold or continue to sell  have a lifetime guarantee of authenticity. I currently sell Western Artifacts, Bottles, Books, Coins & Tokens, Carvings, Bowls, Baskets, Stone Tools, Beads, Fossils, and much more. I also carry other collectable items including Sports cards, Stamps, Postcards & Paper. Looking for something unique and one of a kind? You have come to the right place!
Call Today (778) 386-3110
Sign up here… to be added to my mailing list and receive our latest news, special sales coupon codes, receive notice of our upcoming sales and be one of the first to know when new inventory will be added to the website.
Since 2001 BC Artifacts has been a leading and trusted source for authentic artifacts, collectables and souvenirs.
At BC Artifacts, you will be provided professional timely service, top quality products, authentic artifacts, and collectibles every purchase, guaranteed.
Please Note:
Attention!

There is a current fraud scam using this BC Artifacts Business name. I DID NOT HIRE ANY STAFF and am not hiring anyone at this time.
Currently on hold with listings while I relocate to Vancouver Island. Sales, mailing address and contact information will remain the same during this transition period
I will be continuing to list many collectables from the Hardie personal collection and also inventory from the BC Artifacts Mobile Museum and several early legally obtained western artifact collections once relocated
All "Artifact listings" have been legally obtained from the finder/collector and will always include a "Statement of Provenance" providing the artifact(s) history, finder information, as well as typology and grade if applicable
All pricing on this website are in Canadian Dollars
FREE SHIPPING ON ALL ORDERS OVER

$150.00 CANADA & US
OUR MAIN PRODUCT CATEGORIES
Just Listed!
Featured Items & Great Deals!
Hi, I'm Tony Hardie, owner/curator at BC Artifacts
Welcome to one of the first Authentic Collectable and Western Artifact sales websites. On-line sales and guaranteed authenticity since 2001!
If you are interested in acquiring or viewing the artifact collections I have documented from the Pacific Northwest,  they are located here at "BLURB" books. I have published these books documenting the artifact collections purchased and resold here at BC Artifacts Ltd.
"LIFETIME GUARANTEE OF AUTHENTICITY" on all Artifacts purchased! Reasonable Offers Always Considered.
Please be advised, I am no longer purchasing any artifacts or artifact collections or collectables for resale.
Need Information?
Please contact customer service
or email me at sales@bcartifacts.com
778.386.3110
Please Note! I am no longer looking to purchase any Artifacts or Collections.

Contact Us Now